The styrofoam plates left over from Pari's last birthday party have been giving us new artsy ideas.
Pari has used them for art and craft activities in various ways. But of all, she loves cutting small pieces from them, painting them with acrylic colours and sticking them onto her picture drawn on a invory paper/card paper.
Over the last two weeks, she's made many a mosaics from her styrofoam plates.
Elephant Mosaic (this was part of the accordion book that she made with 5 artsy elephants – over at The Craft Crow.)
Sunflower Mosaic from Styrofoam cuttings
A Bird Mosaic
Wondering what is it about this specific activity that's so like-able…
I think I have the answer.
For one, I think it's the texture and thickness of the Styrofoam that gives a child a special sensory experience when cutting them up with scissors. They are neither too easy to cut as with paper nor too hard as with a thick cardboard. The sturofoam has thickness and yet softness that feels nice under the scissors!
Pari's friend Sama putting together a Sunflower Mosaic by cutting pieces from Styrofoam plate.
Secondly, she can cut in the pieces into whatever shape she wants. So, there's a big element of creative freedom and open-ended art that's so appealing to a child. She's not bound by any specific shape or size or way.
Thirdly, when she sticks them onto the drawing on the paper, the whole picture becomes sort of three dimensional and comes alive when she applies paint.
No wonder, she loves doing this over and over again…
Using Styrofoam plates to create stencils for art activities.
Either she, or I (if it's a difficult sketch) draw on those plates and then cut it out. This creates a stencil that she uses to replicate sketches for different artwork.
I cut out a 'Choozu' (chick) stencil inspired by the charcter from one of Pari's favourite storybooks – 'Little Chicken in a Hurry'
This elephant stencil from styrofoam plate paved the way for some gorgeous, colourful artsy elephants
Using the Styrofoam stencils for more artwork
Pari also loves using those plates for styrofoam printing. But, I'll talk about that in another post.
In what other artful ways do you use the Styrofoam plates?
I'd love to hear your ideas…
———————————————————————————————————————————————————————————
Update on July 16 2011, Saturday
This art was featured on all these creative and artsy blogs: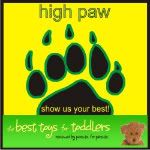 Sunday Showcase – A Child Centered Linky Party
Creative Jewish Mom: Craft Schooling Sunday