I keep encouraging and reminding myself to have Pari do as many open-ended art activities as possible.
By open-ended art, I mean – art that does not begin and does not progress with any expectation of how the final product should look like. There are no samples or models to follow.
Open-ended art is all about experiencing and enjoying the process and learning from it rather than working toward a certain product.
In early childhood especially, the importance of open-ended art experiences holds supreme importance. Toddlers, pre-school age children and even kindergartners are at the stage where they need to be allowed to explore as many art material as possible. They need to be allowed to follow their curiosity and imagination.
Telling them 'what' to do, and 'how' to do will stifle their natural instinct to explore and learn.
There are different types of open-ended art – purely open-ended, theme-based open-ended, material-based open-ended and so on.
I will discuss in another post about all these ways that we follow in our home.
But, in this post, I will share some fun stamping ideas that will provide for hours of creative freedom to a child.
Pari does these often at home and each provides a unique experience in itself.
12 Interesting Stamping Ideas for Kids
1. Bubble Wraps
I keep plenty of bubble wraps always handy for Pari to indulge. The textures of a bubble wrap also provides nice sensory experience to a child. The child can also define the impressions by using marker pens.
For a baby or toddler, the bubble wrap can be a wonderful toy by itself – even without the colours.
2. Wooden Blocks
Both Pari and I love stamping with wooden blocks. Pari has been doing this since she was a toddler. They can be stamped on paper, fabric or even wall.
You can have them create designer wrapping papers to pack gifts for their friends' birthdays and other occasions.
3. Crepe Papers
Due to its texture, Crepe paper lends itself beautifully to stamping activity.
4. Darts
The plastic darts that come with toy pistols or as part of Bow and Arrow kits can be excellent stamping tools. They reveal intricate patterns when lifted.
5. Vegetable Cross sections
Lady finger, Bitter Gourd, Broccoli, carved potato – all these can be used to stamp on paper or fabric. Just make sure not to use too much paint or the print will be smudged. They can stamp on an old T Shirt to recycle and renovate it.
6. Feathers
Besides stamping with feathers, hunting for feathers can be an interesting activity during nature walks. Pari and I love doing this…!
7. Shells
Because shells provide a hard surface, they stamp well on fabric rather than paper. You can have the child stamp with shells on their old T Shirts, pilow covers, handkerchiefs, fabric mats etc.
8. Petals and Leaves
It's amazing to see what incredibly beautiful patterns can be made with whole flowers, petals and leaves. Pari does this to make greeting cards for festivals like Holi or Teacher's Day.
Leaves can be stamped in a way to create animal figures, flower patterns, mandalas, rangolis and more.
9. Cardboard tubes with pasted strings
These create natural-looking grass pattern. You can have the child do this on a big sheet of construction paper and then use it for gift wrapping. Or, you can place a cardboard stencil of a animal figure and roll the tube over it – like we did in the picture above.
10. Hands and Feet
Stamping or printing with their own hands/palms and feet is any day the most favourite activity. Sunflowers (like Putti at Putti Prapancha made), mandalas, rangolis, peacocks – anything can be made using multiple hand prints. The child can stamp even with his feet after wearing shoes too. The impressions from shoes dipped in paint create amazing prints and is so much fun too. They can use paint or coloured shaving cream for a special sensory experience
11. Packaging Material
12. Sponges and Scrubs
Other Knick Knacks
Corrugated cardboard, egg carton, comb, fork, tooth brush, bottle base of different shapes – there are so many options!
Give the child cues and let his/her imagination go wild! Here's one example of how stamping can be used to create a full-fledged picture story.
No wonder stamping is an amazing way to encourage hours of open-ended art and play – be it for toddlers, a preschoolers or even older kids.
Why only kids, even mommies can indulge in some stamping/printing time for stress relief. I love stamping and printing on some old stoles/dupattas and T-Shirts to renovate them.
Here's one of those stoles/dupattas that I stamped on with carved wooden blocks using fabric paint.
Any other unique stamping ideas you do not see in my list.
Please share.
Update on July 24, 2011:

This article was featured on –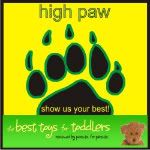 I need help sustaining this blog…
Dear blog readers – It's been exactly eight years now that I've been writing on this blog! Yes, eight long years and hundreds of articles. From art, creativity and learning; to food, health, gardening, travel, sustainable and mindful living, natural birth. In our un-schooling life, as we go on introspecting, questioning and evolving, I've strived to share our stories and experiences with as much honesty, care and sincerity as possible.
I spend hours writing an article – and often write and rewrite many times before it rings true to me and sounds worthy of your time to read.
The most important thing for me is to keep this blogging endeavour authentic and true to my values. This blog has been my sacred space to express, share, feel empowered and contribute. Hence, I do not like to support businesses that don't align with my values. So far, I've rarely taken sponsorship from brands and companies. I haven't placed any ads on my blog, though there have been multiple offers.

Infact, I'd like to keep this blog ad free unless something truly meaningful comes across.
Yet, there's a cost to running this blog. The basic cost of keeping the domain alive, and hosting all this content on. I spend roughly INR 10,000 (USD 173) just to keep this blog up and running. So, I need to cover this cost. Plus, it'd be nice to bring in some income for our family of four. And, this is where I request your support.

If you find my articles and stories useful or inspiring at some level, please help me sustain. Starting from 1 dollar or 100 rupees to whatever you can, do consider donating for the content I share; for my intention and the time and effort I put. Your support will go a long way in keeping this blog (of 8+ years) sparkling with stories for many more years to come. Thank you, dear ones. I'll value what you'll gift with love and kindness. :-)

International readers: Donate using PayPal
Readers in India: Donate here